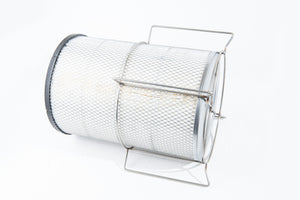 AIR CLEANER CUSTOM KIT - M939
THESE NEW AIR CLEANER KITS WILL SOLVE A LOT OF PROBLEMS LIKE THE LACK OF AIR THAT FACTORY FILTERS CAUSES.
NOW YOU GET TO USE YOUR WHOLE AIR CLEANER NOT JUST HALF OF IT AND THE MOTOR BREATHS BETTER SO WITH MORE AIR YOU GET MORE HORSEPOWER AND TORQUE AND LOWER EGT'S
THIS IS A SIMPLE DROP AIR FILTER KIT SO YOU KNOW YOUR NOT GETTING SOME CHEAP FILTER THAT IS GOING TO LET YOUR MOTOR SUCK DIRT.
THE NEW BASKETS ARE MADE FROM STAINLESS STEEL SO THEY WILL LAST FOR EVER. WE HAVE DONE LOTS OF FITTING AND TESTING TO GET THE PERFECT
FILTER WITH A PERFECT SEAL. YOU WILL LOVE THE EASY FIT AND HASSLE FREE INSTALL OF THIS FILTER LET ALONE THE INCREASE OF HORSEPOWER.
YOU CAN SEE FROM THE PICTURE'S THE SPACE YOU GAIN AROUND THE FILTER FOR AIR TO FLOW AROUND YOUR NEW FILTER, UNLIKE YOUR STOCK FILTER
YOU CAN SEE HOW RESTRICTIVE THEY ARE JUST PULL IT OUT AND LOOK AT HOW ONLY HALF THE FILTER IS BEING USED.
PLEASE ALLOW EXTRA TIME FOR SHIPPING ON THIS ITEM