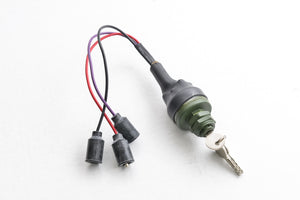 KEYED IN DASH IGNITION SWITCH W/UNI BIT - 3 PLUG
WANT TO USE A KEY TO START YOUR TRUCK WELL HERE IT IS WE NOW OFFER A PLUG AND PLAY FULL METAL SEALED KEY SWITCH FOR IN DASH TO REPLACE THE STOCK FLIP LEVER THIS IS A HIGH QUALITY SWITCH FOR MANY YEARS OF RELIABLE SERVICE.
IT EVEN COMES WITH A BRAND NEW UNI BIT TO MAKE THE PERFECT FIT.
COME WITH A UNI BIT TO FIT THE SWITCH
Includes 2 keys

Trucks: M939, HMMWV, M809, M35A3 (M35A3 requires plug n play adapter http://thosemilitaryguys.com/keyed-ignition-adapter-m35a3/)
DEUCE OWNERS: During the years of the M35A2 the ignition switch changed some time during production. Please check the stock ignition switch in your truck before ordering.