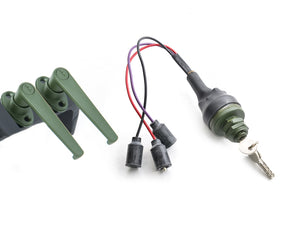 LOCKING DOOR HANDLES & IGNITION SWITCH SWITCH - KEYED ALIKE - 3 PLUG
Want extra security for your truck? Install our matching locking door handles and keyed ignition switch - NOW KEYED ALIKE!

Stop fiddling with multiple keys, and use this kit featuring matching keys


THESE ARE FOR 3 WIRE IGNITION SWITCHES.

PLEASE CHECK YOUR TRUCK BEFORE PURCHASING.


The Older 2.5 Tons (DEUCE) used both the 3 wire and 4 wire switches. (You will have to check your specific truck)

ALL M939 series, M809's, use 3 wire switches.

NOTE: THESE DOOR HANDLES DO NOT WORK FOR HMMWV's.


CHOOSE YOUR COLOR
DEFAULT COLOR IS BLACK