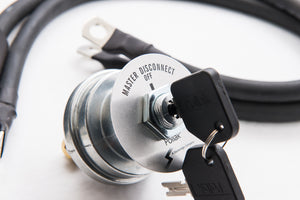 KEYED BATTERY CUTOFF SWITCH FOR HMMWV (DRIVER SIDE MOUNTING)
This keyed battery cut off is designed just for your HMMWV! This kit is designed specifically to be mounted on the driver side location.

Now you can have peace-of-mind when you leave your truck unattended.
The keyed switch is rated at 180 continuous amps and will handle a 1000 amp surge. The cables are heavy duty welding cable.
Installation is straightforward, and is easily accomplished with simple hand tools and easy-to-follow instructions.