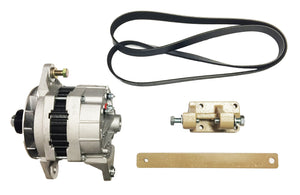 160 AMP 24 Volt - HMMWV - Alternator Upgrade Kit
Picture is for display purposes. The kit you purchase will be spec'd for HMMWV's that are equipped from the factory with 60 Amp Alternators
Alternator Upgrade Kit for your 60 Amp Alternator Equipped HMMWV.

Lighter, more powerful, more reliable.
ATTENTION: Requires Grounding Kit. If you don't already have the grounding kit installed, please note that you will need the grounding kit for proper performance of the alternator and will void warranty if running without grounding kit.


Includes: Alternator, required belts, Pulley, Brackets, mounting hardware and a 6-month replacement warranty