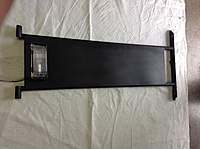 OVERHEAD CONSOLE WITH DOME LIGHT FOR SOFT TOP for m939 and m35 military vehicles
Our Overhead Console solves several space problems for the soft top truck owner. It allows you to have a dome light in your, otherwise, light-less interior. It also gives you a place to mount your CB radio and any other accessories.
Please specify 12-volt or 24-volt when ordering.
This will fit soft top Deuce and 5-ton military vehicles with 1" round tubular framing.
No drilling needed for installation. Includes mounting clamps and installation instructions.

Questions? Email us at thosemilitaryguys@gmail.com
BUILT TO ORDER. ALLOW ADDITIONAL LEAD TIME.